The Flying Winemaker Sauvignon Blanc 2021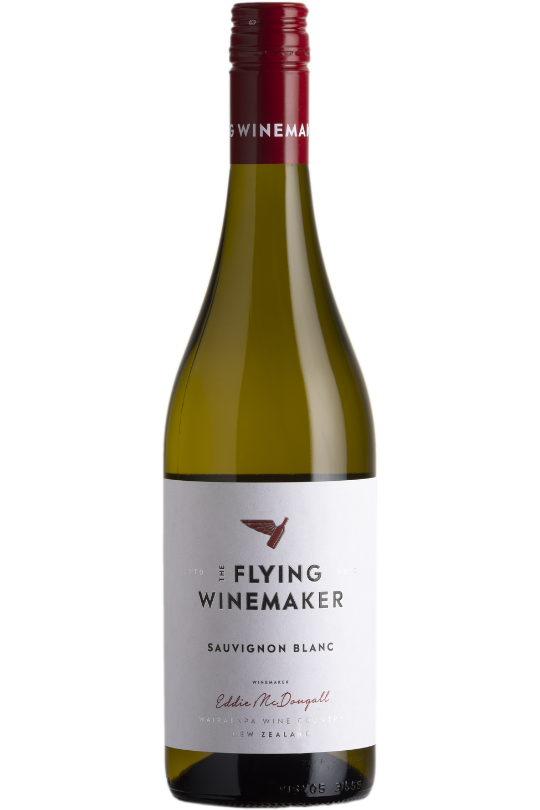 TASTING NOTES:
The Flying Winemaker Sauvignon Blanc is, in all essence of the word, lively. It's aromatically dynamic with bursts of gooseberry, white peach, green fig and a subtle grassiness - a tantalising bouquet that grants a captivating experience. Upon each sip, you'll be greeted by a wine that is energetic and crisp with concentrated tropical flavours that lead to a long, vibrant and salivating acidity that is tightly wound and intensely structured.
REVIEWS:
92 Points | "Attractively fruited and beautifully lifted, showing apricot, lemon zest, red capsicum and subtle spice notes on the nose, leading to a juicy palate offering fabulous fruit intensity backed by bright acidity, making it flavoursome and lingering. At its best now to 2024." - Sam Kim, Wine Orbit
91 Points | " Fresh, tangy sauvignon blanc with guava, tropical fruits, gooseberry, struck-flint, grapefruit and lime flavours. A seamless wine with mouth-watering acidity. A well-made wine from a top vintage." - Bob Campbell MW, The Real Review
89 Points | "Bright, fresh and fruity bouquet with classic SB aromas of lemon and tropical fruits, layers of fresh herbs, apple and seam of green bell pepper. Equally crisp and refreshing on the palate with flavours that mirror the bouquet, there's a grapefruit pith then tropical fruit flavour, plenty of acidity and varietal persistence throughout the palate. Dry finish, balanced and ready to drink from purchase day and through 2023." - Cameron Douglas MS
WINEMAKER'S NOTES:
"A curation of younger vine parcels that are varietally expressive and able to sing the right notes of Sauvignon Blanc characteristics. We look for ripe and tropical flavours while flashing highlights of a mouth-watering salinity. Our key to the success of this range is simplicity and honesty. We're not trying to reinvent the wheel, we're sticking with what works to make this wine taste awesome."

- Eddie McDougall
WINEMAKING & PRODUCTION:
Winemaking without overcomplicating the process is the way we produce this wine. We like to focus on varietal expression and regional identity. Our Sauvignon Blanc is true to the style of Wairarapa and is fermented as clarified juice post destemming and pressing. Low temperatures and steady sugar conversion to alcohol are all we look for here. Ideally, we see wine from grape to bottle over a short time frame of 8-10 months before hitting the market 12 months after harvest. We sterile filter and ensure freshness is kept at the highest level to promote early drinking.
ABOUT THIS RANGE:
Winemaking without borders while ultimately aiming to express the honest flavours of individual grape varietals. Each wine produced under this range is a benchmark example of grape, place, and maker.
With an ambitious and pioneering spirit, we thrive on discovering and expressing the finest terroir — getting the best from every grape with minimal intervention. The results are exceptional wines, crafted with passion and precision so you too can experience the journey, one sip at a time!