The Flying Winemaker Cabernet Sauvignon 2019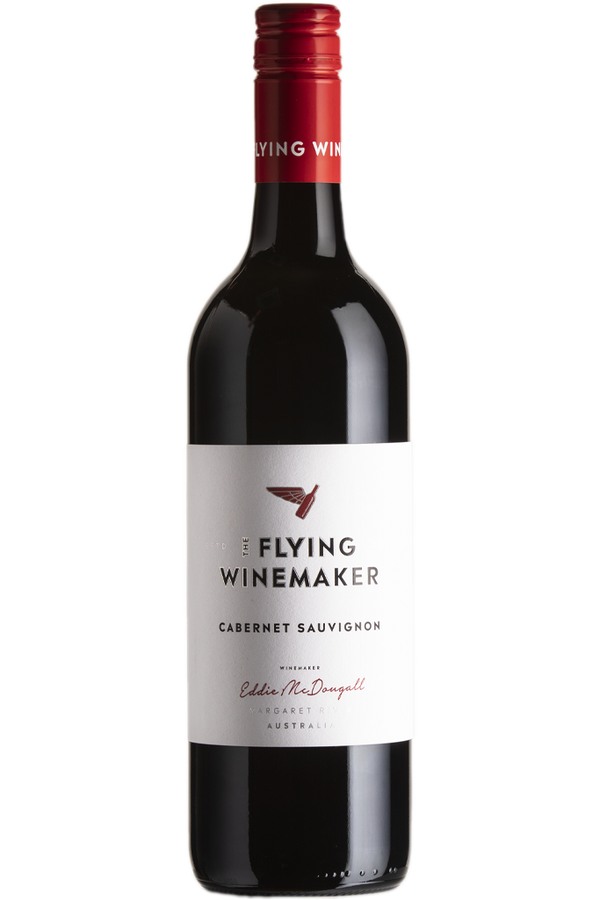 TASTING NOTES:
A plush and invigorating nose that is very reminiscent of a classic Margaret River Cabernet Sauvignon. The allure of eucalyptus is ever-present and inviting coupled with dark blackberries, plum, violet florals and liquorice, making the aroma very inviting and seductive whilst showing great intensity. The palate has a pronounced yet honest intensity with clean, fresh acidity and fine-grained tannins. Beautifully balanced and structured with good fruit persistence that is bright and cheerful and carries some depth to linger and offer a wonderful array of complex, yet elegant contrasts between fruit, balance, structure and finesse.
REVIEWS:
*QANTAS AIRWAYS REGIONAL BUSINESS CLASS RED WINE
90 Points | "Claret red in colour with a watery rim. Aromas of sweet plums and tobacco. Full-bodied, big on flavour and alcohol, blackcurrant, cedar and mint chocolate mix with polished tannin, plush texture and a pleasing finish." - Amanda Yallop, The Real Review
90 Points | "This wine gives you a taste of Margaret River's finest cabernet sauvignon that doesn't require five years in the cellar before it's approachable. It over-delivers not just in value, but also on the incredible length in flavour brought about by a perfect season. Blackcurrants, coffee, truffle shavings and scents of cocoa dust layer seamlessly and in harmony" - Halliday's Wine Companion
90 Points | "Dark, youthful and purple in the glass. Charry oak aromas, blackcurrant, dark cherry dried herbs and tobacco. Dark-fruited and fleshy, blackberry, cedary, brambly and savoury. The tannins are firm, structured, granular and shape the wine very nicely. A smart wine and of great value." - Aaron Brasher, The Real Review
89 Points | "A warm – and sizeable – expression of Margaret River cabernet. It tastes of blackcurrant, gravel, eucalyptus and mulberry, perhaps even with a flash of liquorice in there somewhere, and while alcohol thins the finish slightly there's plenty of grunt through the mainstay of the palate. It offers decent value, it has to be said." - Campbell Mattinson, The Wine Front
WINEMAKER'S NOTES:
"Designed to be a classic expression and very approachable. We want the drinker to enjoy the best of what Margaret River offers in terms of flavours and varietal definition. Delivering notes of blueberries, violets, plums, and spices, this is what one should consistently expect from this wine. Our key to the success of this range is simplicity and honesty. We're not trying to reinvent the wheel, we're sticking with what works to make this wine taste awesome."

- Eddie McDougall
WINEMAKING & PRODUCTION:
Our grapes were harvested by machine, then brought to the winery for immediate processing. The grapes are crushed and destemmed, then immediately inoculated with cultured yeast to encourage the start of alcoholic fermentation. The must is fermented in a large stainless-steel vessel, which is regularly pumped over two to three times daily to ensure that we are extracting the best of colour, flavour and tannins. This continues for up to 2 and a half weeks. Once the alcohol has been successfully produced we then transfer this must into a press whereby we further extract more flavour, colour and tannin. Once the pressing has completed, the clean wine is transferred back into vessels for further maturation and malolactic fermentation. The wine is matured in French Oak and for up to 12 months. At the end of maturation, it is racked and filtered prior to bottling.
ABOUT THIS RANGE:
Winemaking without borders while ultimately aiming to express the honest flavours of individual grape varietals. Each wine produced under this range is a benchmark example of grape, place, and maker.
With an ambitious and pioneering spirit, we thrive on discovering and expressing the finest terroir — getting the best from every grape with minimal intervention. The results are exceptional wines, crafted with passion and precision so you too can experience the journey, one sip at a time!