The Flying Winemaker Pinot Noir 2019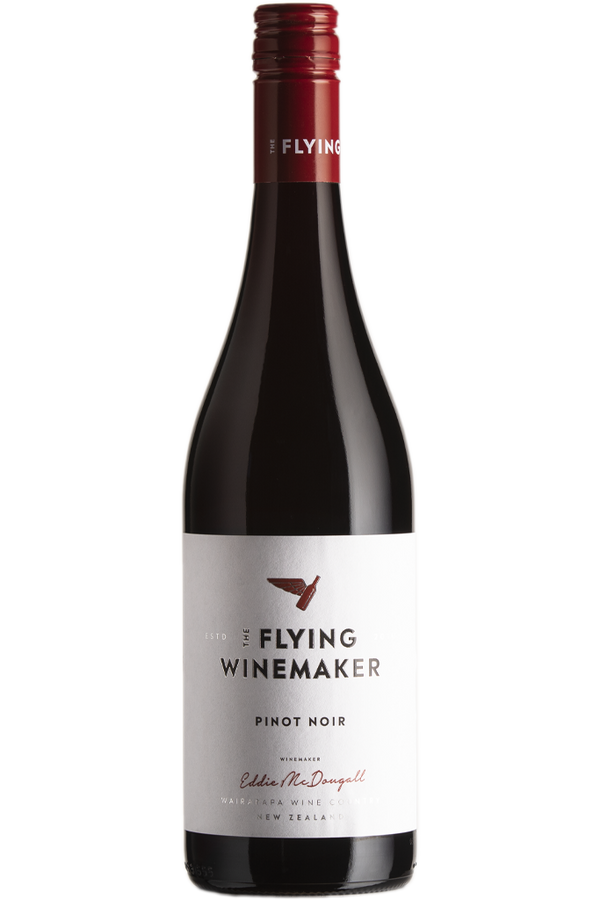 TASTING NOTES:
Making a great Pinot Noir is no easy task and we maintain the utmost precision when making The Flying Winemaker Pinot Noir. The result is an aromatically pretty wine, reminding one of pure elegance and beauty. Purple violet florals and ripe red berries are lifted by underlying tones of dark cherries and subtle herbaceous notes. The palate is light, charming and very rewarding, packed with loads of lusciously juicy red fruits and a clean, linear acidic backbone. In summary, this is the Audrey Hepburn of Pinots - poised, elegant and sophisticated.
CHRISTMAS FOOD PAIRING: The ever-classic North American centrepiece, gobble gobble, it's Turkey!
REVIEWS:
92 Points | "Youthfully charming and beautifully fragrant, showing sweet plum, dark cherry, thyme, warm spice and floral aromas on the nose. It's equally appealing on the palate with elegant weight and silky mouthfeel, well supported by finely polished tannins, finishing long and juicy. At its best now to 2025." - Sam Kim, Wine Orbit
90 Points | "A youthful and fruity bouquet with aromas of cherry and yellow plum, some floral highlights and stony dried herb layers. Equally fruity on the palate with flavours of red berries and plum, some dried herb and vanilla toasty baking spices of wood. Balanced and well made, some, youthful, dry and ready. Best drinking from 2021 through 2023." - Cameron Douglas MS
90 Points | "Cedarwood oak sits obvious in the wine but it makes for pretty seductive drinking. Cherry-plum flavours sit fresh and fleshy in the wine, along with smoky reductive notes, before the fanciness of the oak takes over." - Campbell Mattinson, The Wine Front
89 Points | "A well-made pinot noir from a favourable vintage. Supple, easy-drinking wine with cherry, berry, fresh herb and subtle spicy flavours. Offers value at this price." - Bob Campbell MW, The Real Review
WINEMAKER'S NOTES:
"This wine is curated from younger vine parcels that are varietally expressive and able to sing the right notes of Pinot Noir characteristics. We look for lots of dark plum and cherry notes, which aren't masked with oak, to show off dark and wildly fruity flavours that are plush on the palate with silky tannins. Our key to the success of this range is simplicity and honesty. We're not trying to reinvent the wheel, we're sticking with what works to make this wine taste awesome."

- Eddie McDougall
WINEMAKING & PRODUCTION:
The fruit is destemmed into 2-tonne fermentation tanks with about 70% of the fruit left as whole berries. As far as possible, all clones were vinified separately to give maximum expression of each clone's unique character. We applied a cold soak period of 3–5 days followed by spontaneously started ferments. All batches received a post-soak of between 2–3 weeks, with plunging done by hand to ensure a soft extraction of tannins. We then pressed of the batches and matured them in French oak barrels (25% new) for 10 months, each with its own balanced oak regime of barrel age and choice of coopers.
This is the same process that our Gladstone Vineyard Estate Pinot Noir undergoes, but the key differentiator is that the grapes either come from grower vineyards or young vines we manage. A mix of wild and innoculated fermentation in open fermenters are plunged at least twice daily. Malolactic fermentation and maturation takes place in barrels for 10 months, with racking occuring twice prior to bottling preparation. The use of seasoned oak is preferred here to ensure the wine is displaying a pure, unadulterated and perfumed Pinot Noir that represents the Wairarapa region.
ABOUT THIS RANGE:
Winemaking without borders while ultimately aiming to express the honest flavours of individual grape varietals. Each wine produced under this range is a benchmark example of grape, place, and maker.
With an ambitious and pioneering spirit, we thrive on discovering and expressing the finest terroir — getting the best from every grape with minimal intervention. The results are exceptional wines, crafted with passion and precision so you too can experience the journey, one sip at a time!